2018
Successful recipient Zoe from Melbourne spent a day out with her family and friends at a waterslide park. The staff were amazing and took very good care of Zoe and she even had her own personal life guard.


---
2017
Successful recipient of the 2017 Follow Your Dreams grant was John from South Australia. All John wanted to do was take his parents on a holiday to Darwin and do all things crocodiles. Thanks to the Follow Your Dreams grant, the Kate Turner Fund and some additional funding from DEBRA John's dream came to fruition.


---
2016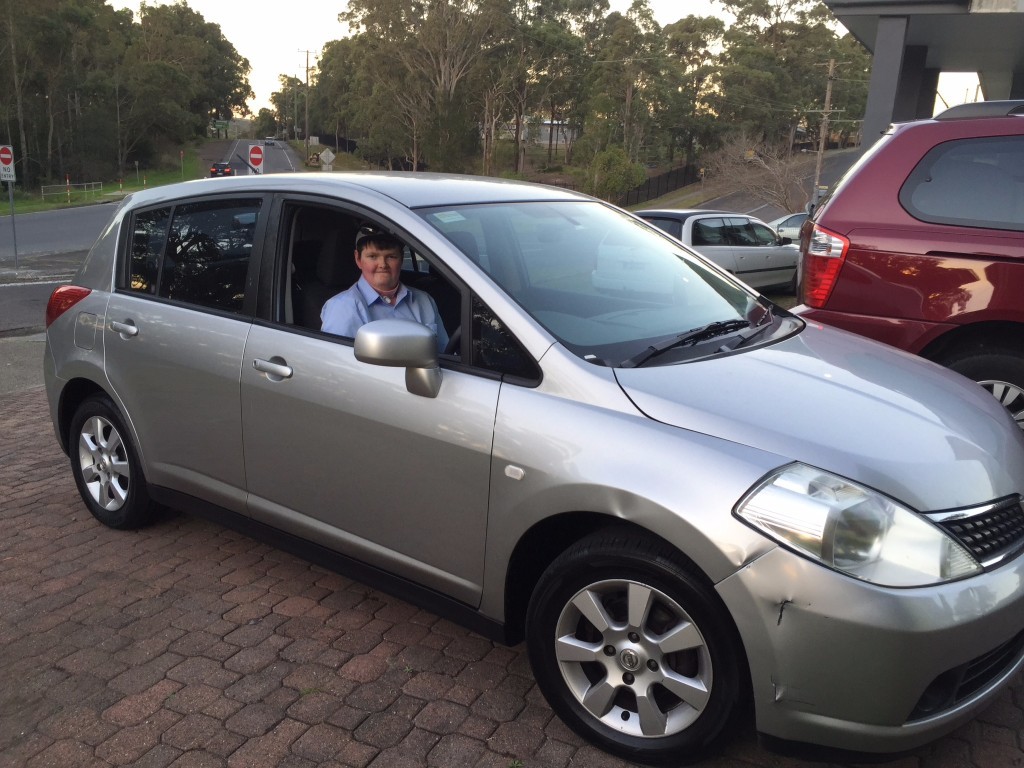 Connor was the successful recipient for the 2016 Follow Your Dream, granting him financial support to buy his first car.  In his own words "having my own car has made such a difference to my life and best of all my confidence and self-esteem.  I have many medical issues but as I'm nearly 18 years old it was something I have been yearning for just like other kids my age. My sincere thanks to the Kate Turner Fund and Follow Your Dreams grant for financially supporting me to purchase my very own car.  Kate and Carmel will be proud of me I think."
---
2015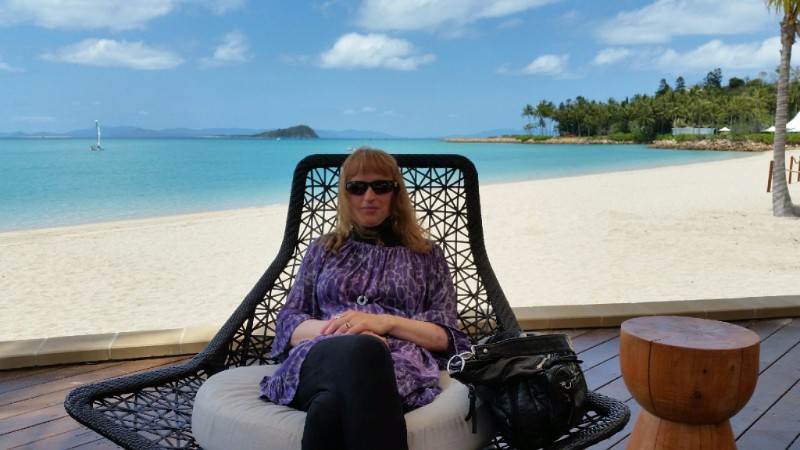 Article by Vanessa Manzano
I was the lucky recipient of the DEBRA Australia Follow Yours Dreams Grant for 2015. I cannot thank everyone involved enough for this wonderful opportunity. Although things did not exactly work out as planned this was an amazing experience that I will never forget.
I arrived at Hayman Island on 23rd November for a five night stay. The photos don't lie – the water really does have those gorgeous shades of aquamarine and turquoise! The photos simply can't capture the true colour as the eye can see.
While unfortunately I managed to get a sore eye very early in the vacation, what I did manage to see was glorious. My sore eye did not stop me from enjoying the delicious food, and an invigorating reflexology session. I think I floated back to the room afterwards. I had been hoping to enjoy my first facial, but was unable by then to contemplate having anywhere near my eye touched, so that experience will be in my New Year list of goals.
When emailing the General Manager, Ed Brea, to praise and thank the high quality team working there, and some specific staff members who went above and beyond normal expectations of customer service, he was thrilled to receive the praise of his staff. On discovering the background for my stay and realising I never made it for that long awaited swim in the ocean, he arranged a complimentary return stay voucher for two people, including breakfast and luxury yacht transfers. Since the original email the invitation has now been extended to include both of my children as well. They are so excited!!
I have never heard of such a kind and generous offer before. He could have simply said he was sorry to hear what happened and hope I may return one day, but at "One & Only Hayman Island" going above and beyond seems to be the norm for them.
I am very grateful to the resort manager Ed Brea and his exceptional staff, for allowing me this opportunity. If you are considering an Island holiday I would definitely recommend Hayman Island, it's heaven!! I have also included a copy of two emails that I hope you will read. I really wanted to share with you all this "feel good" story.
Also, a big thank you to Simone from DEBRA, for her assistance in organising this holiday and the phone calls, to assist with Hayman Island providing the necessary requirements for my bath, which certainly made packing easier for me.
I would like to say a huge thank you to Simone and Sue and all the DEBRA committee/board for all the support I have received since the passing of my mother last July. It was an incredibly rough time and without that support I would not have coped. It made the world of difference to my children and I and I am so grateful. Merry Christmas to all of you!
With thanks – Vanessa Manzano
The Follow Your Dreams grant was made possible this year due to additional support from the new Kate Turner Fund.
---
2014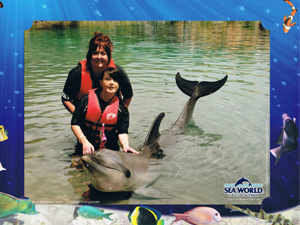 The 2014 recipient of the DEBRA Australia Follow Your Dreams Grant was Bianca whose dream has always been to swim with dolphins. At the start of November we were able to fulfil Biancas dream by sending her to Sea World! Here is her story:
"On the 4th of November I was given the opportunity to swim with the dolphins at Seaworld on the Gold Coast as part of the Follow Your Dreams grant. This was an amazing opportunity for both my wonderful mum and I. Swimming with dolphins as always been something that I have wanted to experience and I'm so grateful to DEBRA Australia for giving me this opportunity. Dealing with EB can be a full-time job which leaves very little time for my mum and I to be able to spend quality time together. This time away has also given us the opportunity to spend some much needed time together and forget about the daily struggles that are sometimes very stressful and time consuming. This allowed us to strengthen our already unbreakable relationship and I could not have chosen a better person to share this due to the countless hours she devotes to helping me.
The dolphin experience was truly a once in a lifetime for the both of us and they are truly beautiful and intelligent creatures that can also be very cheeky. We were allowed share the water with these gorgeous animals and even got to feel their skin and view a few some of their many tricks that have been taught by their trainers. Seeing them jump metres out of the water and view how they are able to glide through the water at high speeds was truly magical as well as being able to spend some much needed time at the beach which I believe is greatly beneficial to improvement of my wounds. As a treat for the both of us we booked in a spa treatment package where we came away relaxed and pampered. They were also able to cater to my needs and were able to work around my condition. This was something that I never thought was possible. This trip away was a dream come true. I am so appreciative and blessed for being given this opportunity and will remember this experience for the rest of my life. Thank you so much DEBRA Australia."
Right: Bianca with her mum at Sea World.
---
2013
The recipient of our Follow Your Dreams grant for 2013 was Milad. His dream was to go to the Liverpool FC live match in Melbourne in July. He made it after a rocky start as Milad unfortunately had a pretty bad eye the morning of the flight, but he and his family made it onto the plane and into Melbourne. By that evening, the night of the soccer match, Milad's eye was a bit better and as soon as the match started Milad was chanting his team's songs and having the time of his life. Somehow Milad managed to watch the entire match even with his eye playing up. Milad and his family had lots of fun regardless of all the crazy circumstances, and it just goes to show us at DEBRA just how resilient our members are. Even in the face of adversity and hardship, they still manage to enjoy life and make the most of what they are dealt. Amazing!
Right: Milad with his Liverpool FC scarf at the Melbourne stadium.
---
2012
We are pleased to announce that the 2012 recipient of the Follow Your Dreams Grant is Lisa Brains. Lisa is a wonderful young lady, who goes above and beyond to help DEBRA with fundraising and awareness campaigns. Lisa was considered the most deserving of many high quality applications this year. Lisa has requested that her grant goes towards buying an iPhone so she can keep in touch with friends and family wherever she goes! We hope that she enjoys this well-deserved reward for being such an inspirational and generous spirit.
Right: Lisa (centre) wityh Stevie and Rebecca at this year's conference, where the Follow Your Dreams Grant recipient was announced.
---
2011
Eliza Baird is the deserving recipient of the Follow Your Dreams Grant for 2011. We are so happy to say that, with the help of the Make a Wish Foundation, we were able to send Eliza and her family to Disneyland, where Eliza has always wanted to go. She tells us that she had an amazing time and got lots of hugs from the Disney characters wandering around the theme park. Congratulations Eliza, and we are really happy that we got to help you Follow Your Dream this year!
Right: Eliza and her family getting a big hug from Minnie Mouse at Disneyland
---
2010
We are pleased to announce that Gavin O'Brien from QLD is the successful recipient of the Follow Your Dreams grant this year! Gavin was recently in hospital for major surgery and his computer no longer worked so we awarded the 'Follow Your Dreams' grant to Gavin and provided him with a new laptop and portable printer. Gavin has always been a loyal advocate for DEBRA and helps us out with all sorts of public appearances and lobbying efforts. Congratulations Gavin! We hope you get lots of use and enjoyment out of your new equipment.
Right: Gavin enjoying his new laptop.
---
2009
Paolo Lucia's dream was to meet Mark Webber and sit in a Formula One car. At the 2009 DEBRA EB Conference / Camp it was announced that Paolo was the successful recipient of the grant. Paolo did get to find out about his good fortune but unfortunately lost his battle against cancer and EB on 5th July 2009. Paolo was involved in DEBRA Australia from its conception and was a fantastic ambassador for creating awareness and much understanding for EB, he will be sadly missed.
To launch the grant other applicants were also assisted with following their dreams. This included:
Supporting Stevie to attend a skin disorder camp in the US in July 2009
Presenting Gavin with a camcorder for his adventure camps
Presenting Eliza with signed copies of Jackie French books and posters