DEBRA Australia with the help of generous donors have been funding the in home nursing support program for our most severe EB individuals nationally. Most families involved in this care have found benefits in having some respite and additional support. The program offers In Home Nursing Support which includes registered nurses or support workers specifically trained in EB for 2 visits per week / 3 hour sessions, who will provide direct wound care, bath and dressing changes. This program supports all ages of individuals with EB and focuses on support within the family home in aim to relieve the stress and on-going, high demand of EB care.
Our Family Support Coordinator attends 13 EB clinics around the country at different various times of the year. During these times she liaises with EB families, nurses and other health professionals to ensure EB related needs are being met. Our Coordinator has the capacity to link families in with the NDIS and other relevant care support providers. The Family Support program also provides opportunities for families to attend bi-annual EB camps, annual EB picnics, Youth programs and Respite weekends for mums. We offer support to families during bereavement and attend funerals of loved ones who have sadly passed.
If you are interested in gaining support from this program, please contact our Family Support coordinator on 0413 967 609 or via email simone.baird@debra.org.au or ebfamilysupport@debra.org.au.
Family Support Application
Families living with EB can apply for support via the EB Family Support Program by completing this form. Each application is reviewed on a case by case basis and there is no guarantee that each application will be successful however if the program is not in a position to assist then our family support coordinator will aim to access support from external funding bodies. DEBRA Australia have funded over 200 applications each year to support families on a national basis. There is however a limit of funding for each type of support available. Please keep in mind that DEBRA is a not for profit volunteer organisation that does not receive any Government funding. If there are other avenues to source support via Government funding please use that as your first option.
Medical Supplies
Aids & Equipment
Quality of life
Support Services
Transition to Independent Living
Parent and Sibling Respite
Counselling Services
To fill out the online application click here
To request a physical application form contact ebfamilysupport@debra.org.au.
For more information contact Simone Baird on 0413 967 609 or Sue McKenna on 0427 937 003.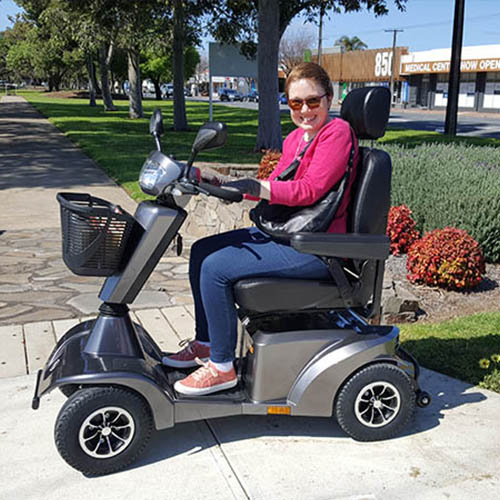 Tara's story
A big thank you to the DEBRA Foundation, Kate Turner Fund and the Family Support Committee for helping me get a brand spanking new mobility scooter.  My second-hand one was on the fritz and I had no hope of getting a replacement without a little help. Well, you guys gave me a LOT of help.
That scooter—I've named her Silver by the way—means freedom to me. I can get out the house, every single day if I want, and I don't have to worry about hurting my feet. I don't have a car so the scooter is how I run errands and do my shopping. But it's so much more than a practical object, it's become a part of my identity too—it's how I connect with nature and community. Without it I'd be shut-in. Nothing makes me happier than getting out in the sunshine and fresh air to see what's happening in the neighbourhood and see who's about, and smell the flowers in bloom and the freshly cut grass, and smile at every stranger I see—heaven.
I've spent precious years seeing doctors and specialists and being on wait lists and filling in forms and gathering documents and speaking with legal aids and psychologists and politicians—exhausting. All done to access that precious government aid, such as the dressings scheme. It was a surprise, after all that, to receive such fast, generous and compassionate assistance from you all. Thank you so much.