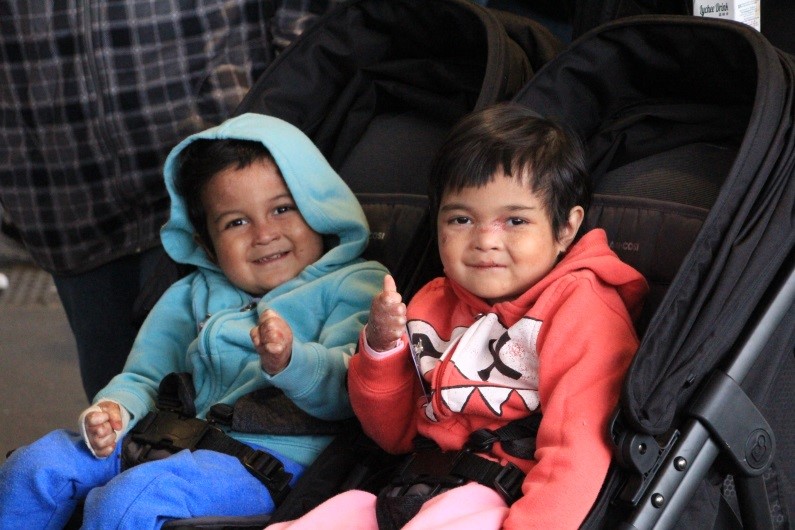 A big thumbs up to the recent EB Camp held in Sydney NSW.  This was the sixth national EB Conference & Family Camp held and biggest one to date with around 180 people attending from all around Australia and New Zealand. The Novotel Brighton Le Sands was a great venue near the airport and the wonderful staff went above and beyond to make our stay memorable.
The kid's activities were non-stop with a trip to Sea Life, Wild Life and Madam Tussauds in Darling Harbour. Sunday morning included a one on one session with Matt the Australian Ironman and the magic show proved a big hit and all the kids got to learn some tricks.
Loretta from Your DJ had everyone up dancing at the Saturday night dinner and Matt Bevilacqua did a great job inspiring families to do more living with EB and what can be achieved if you follow your dreams.
While the kids were having fun the parents were listening to national and international guest speakers and learning more about dressings and podiatry in the workshops.
Dressing companies were also present with their trade displays to educate guests on what products are available.
We would like to thank our major sponsor Molnlycke Healthcare P/L along with Castle Creek Pharm for helping to fund this wonderful event. It would have also not been possible without lovely donations from the Todd family, the Eliza Braitling Foundation, Merlin's Magic Wand, Kiwanis Glenelg Club SA and Mirror Booth Australia. Last but not least our volunteers who looked after the children for the weekend and the guests for coming to make it all worthwhile. From the feedback survey 100% of attendees thought the quality of the event was excellent or very good and it was a great event that they would attend again! We only hold this event every two to three years so if you missed out this time round please be sure to keep in touch via reading our newsletter to see when the next one will be scheduled and where.
Topics and guest speakers included:
Progress in gene therapy trials by A/Prof Peter Marinkovich (California USA)
Wound healing therapies by Prof Dedee Murrell (Sydney NSW)
Experiences from involvement in EB trials by Dr Susan Robertson and EB Nurse Lauren Weston (Melbourne VIC)
Podiatry considerations in EB by Dr Tariq Khan (Sydney NSW)
Introducing DEBRA's Psychological Support Program (Dr Katharine Hodgkinson and DEBRA Family Support Coordinator Simone Baird)
National Disability Insurance Scheme information by Rhiannon Brodie and Richelle Arnott (Sydney NSW)
Developing independence when you have EB (Wellington NZ)
Living with EB by Matt Bevilacqua (Gold Coast QLD)
DEBRA International Update and EB Without Borders program by Dr Zlatko Kopecki, (DEBRA Australia Director and DEBRA International representative)
DEBRA Values and where to from here? By the DEBRA Chair Jenny Marty (Sydney NSW)
Some of the feedback from the parents included:
Meeting other children with the same type of EB. Feeling like they are not the only one with the condition. For siblings learning more about EB. Feeling like they are very special at the Camp.
Our daughter had a wonderful time in the toddler room and made friends and was happy in there on her own. It was her first time left in the care of someone other than family and we thought the volunteers in the room were exceptional. They put us at ease straight away.
Able to make friends and meet other kids with EB, which up to now he has never met anyone with EB outside our family.
It was great for my daughter to meet other kids with EB. She does not feel "alone" anymore and made great friends. Over the last couple of weeks she already has been in touch with some of her new friends. For her mental health this camp has been great value.
It was my daughter's first outing on her own. She came back without a scratch. She had so much fun she still talks about it almost every day. The volunteers and nurses surely made an impression to her and to us. We are so thankful for the opportunity.
To check out more great photos taken by our volunteer photographers Kris and Renae please check out the link below.