On Friday the 13 March the Melbourne Market Golf day went off without a hitch and everyone thoroughly enjoyed themselves. We had 24 teams turn up for tee off at 11am and the weather was perfect for a great day on the course. Congratulations to "Prestige Produce Team" who won the overall golf competition and thank you to the Melbourne Market Golf Day committee and 26 volunteers for all of their hard work in the lead up to and during the day.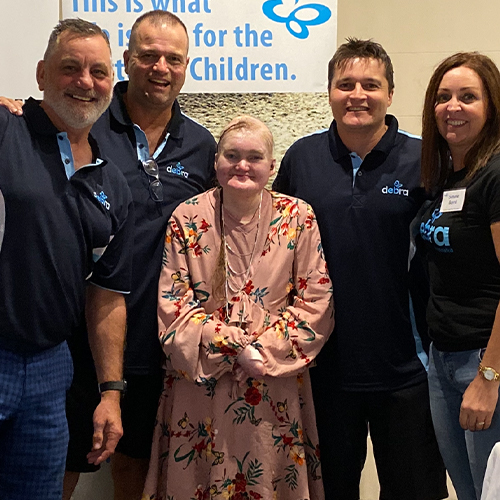 Mark Robinson and Richard Brown from Robinson's Fresh Solutions with Lisa Brains (DEBRA family member), David Hanvey (DEBRA family member) and Simone Baird (DEBRA Family Support Coordinator)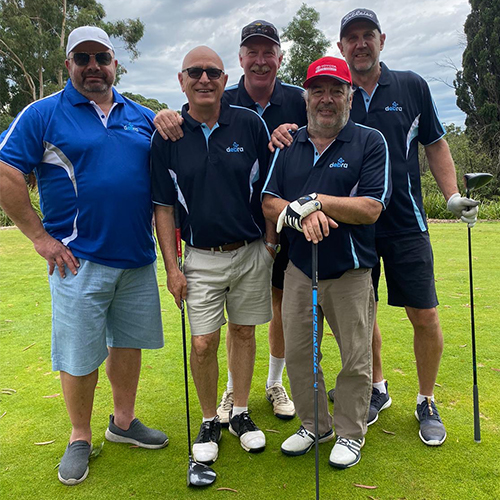 Joe Amalfi, Joe Amalfi (Joe's cousin), Chris Mew, Frank Aloisio, Frank Marchesani.
Thank You Melbourne Market Golf Day 2019
Another successful Melbourne Market Golf Day charity event was held on the 15th March at the beautiful Heidelberg Golf Club. Over $110,000 was raised to provide essential funds for DEBRA Australia which was an amazing result. Golf day president Joe Amalfi and committee members from Fresh State, the Melbourne Markets Lions Club, Melbourne Market Authority, Heidelberg Golf Club, Toyota Material Handling, Art & Style and DEBRA were very happy with how the day went. The funds raised will support families living with EB on a national basis.
The weather was a perfect 23 degrees for the 27 teams that registered. Everyone had a fantastic day and thoroughly enjoyed themselves. Thirty lovely volunteers from DEBRA and the Lions club generously donated their time and assisted with manning the holes and registration desk throughout the day.
A delicious dinner was held at the golf course after the event which was attended by 120 guests. Bianca Saunders was on hand as the guest speaker to talk about what it was like to live with EB. A cheque will be presented to DEBRA at an event scheduled in August 2019.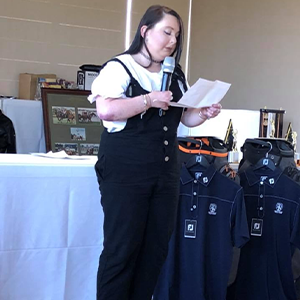 Bianca from Melbourne speaking about living with EB at the Melbourne Market Golf Day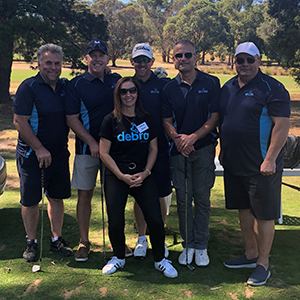 Simone (DEBRA Family Support Coordinator) in front of Team Brescia.
Left to right: Ang, Hudo, Jason, Gerard and Joe Amalfi (MMGD Executive committee)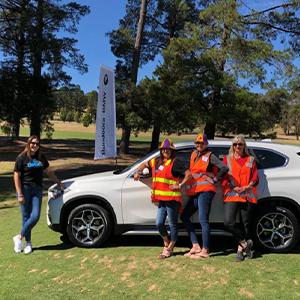 Some of the volunteers at 2019 MMGD – Bianca (DEBRA Fundraising & Marketing Manager), Melinda (DEBRA Director), Andrea & Nicolle with the major raffle prize car.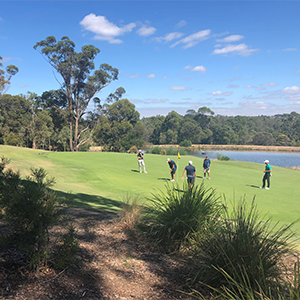 MMG Players at the beautiful Heidelberg Golf Club in Lower Plenty, Victoria.