Each year the Melbourne Market Lions Club runs a Charity Golf Day Event that supports DEBRA Australia, a not for profit organisation that supports people with Epidermolysis Bullosa (EB).
Held on the 15th of March 2019 and supported by Fresh State, Toyota Material Handling, and the Melbourne Market Authority, this event is a highlight of the Market year and brings our community together to support a great cause, have some friendly competition, and enjoy an evening of entertainment.
GIANT RAFFLE DRAW
This year the Charity Golf Day will be presenting a GIANT RAFFLE DRAW, including major prizes such as a car, watches, experience tickets, and much more. Raffle tickets will be available for purchase through the companies running and supporting the Golf Day, so if you are interested in going into the draw just contact:
Fresh State – Tickets sold in the Fresh State office (Store 36, Melbourne Market, Epping) or by contacting kate@freshstate.com.au
Melbourne Market Lions Club – Contact Dom DiMattina through dom@dimattina.com.au
Melbourne Market Authority – Tickets sold in the MMA office (Administration Building, Level 1, Melbourne Market, Epping) or by contacting 9258 6123
DEBRA Australia – Contact Simone Baird by emailing simone.baird@debra.org.au or at 0413 967 609
RAFFLE TICKETS WILL BE AVAILABLE SOON
CELEBRITY PLAYER SILENT AUCTION
We will also be doing things a bit differently this year with our Celebrity Players who will be joining us for the Golf Competition in 2019. We will be holding a Silent Action for all our registered Golf Teams to bid on celebrity players.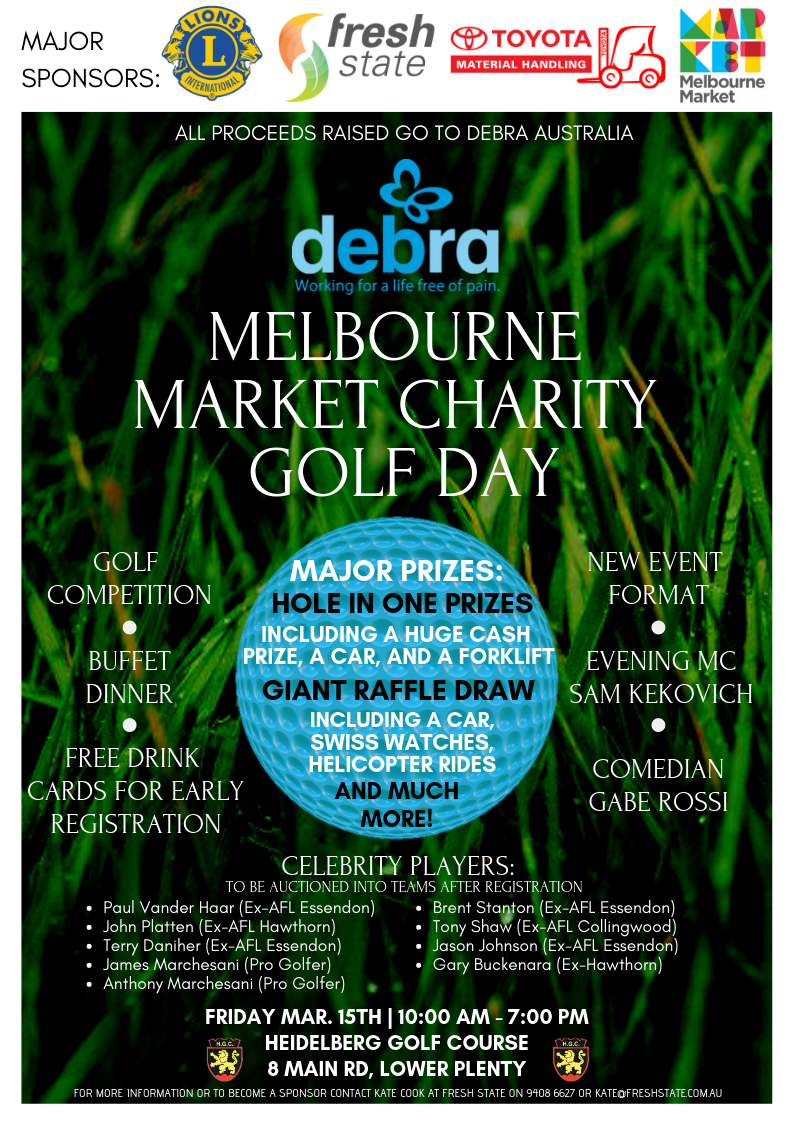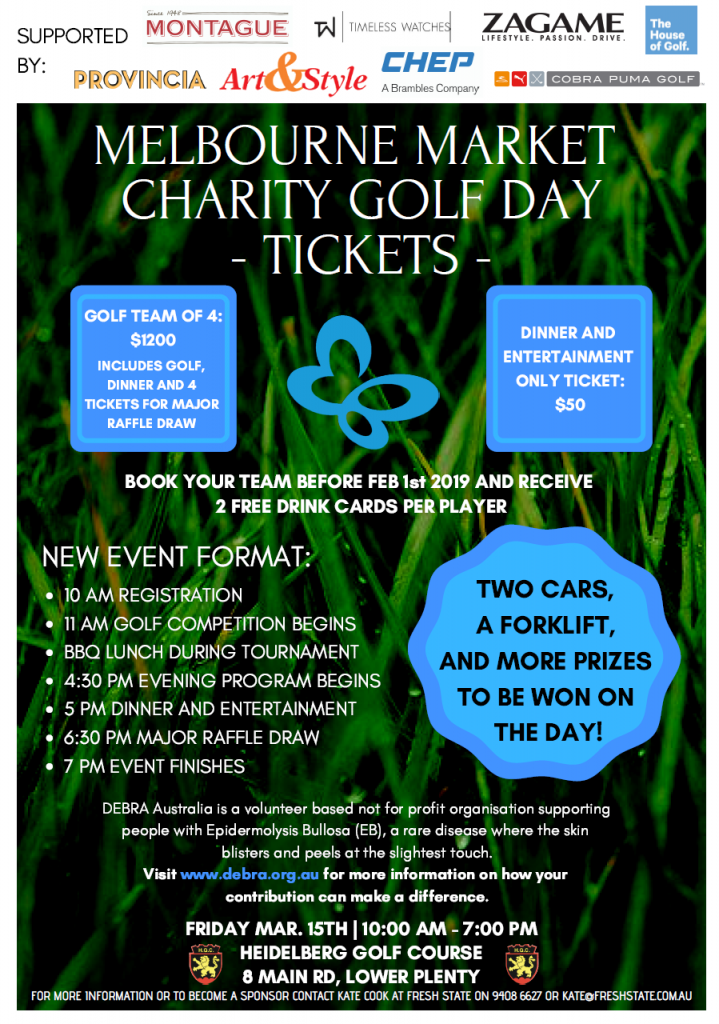 Thank You Melbourne Market Golf Day 2018
In mid April at the Kooyong Tennis Club in Melbourne, the cheque presentation for the Melbourne Market Charity Golf was held. An amazing $82,000 was raised from the event which we are incredibly grateful for. The money raised will go towards all our support services and help make a difference in the lives of those impacted by EB.
DEBRA Australia would like to thank the main sponsors: Fresh State, Melbourne Market Authority and the Lions Club of Melbourne Markets as well as all the other generous supporters and the Golf Day Committee for making the day such huge success.