Over the March Labour Day long weekend thousands of keen bike, car and music enthusiasts flocked to country Victoria in Bright to support the annual Brighter Days festival. The three-day event was held at lovely Pioneer Park and participants danced the weekend away to wonderful music from a great line up including Jon Stevens, Daryl Braithwaite, Chocolate Starfish and the Screamin' Eagles. Members of "Eliza's ride" from NSW, rode through two days of solid rain to arrive in Bright and handed over a whopping cheque of $8,000 to contribute to the event which was an amazing effort.
The little bit of rain didn't stop the show and many turned up at the DEBRA marquee to show support to our charity with donations and merchandise purchases. Thanks to the Halfpenny family from Mildura who came along and mingled amongst the crowd and chatted to visitors at the marquee. Little Jessika and her brother Jackob did a marvellous job at selling fairy light headbands, wrist bands and DEBRA bandannas. Thank you also to the Brighter Days committee for their amazing effort with organising another fantastic event. They navigated their way through many hurdles this year and the outcome was nothing short of brilliant.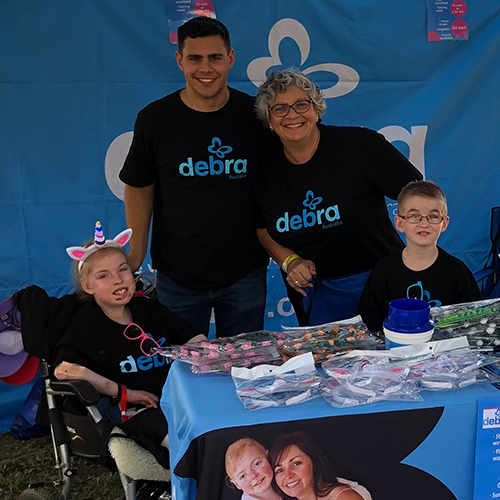 (Front) Jessika and Jakob from South Australia helping at the DEBRA tent with Daniel Segulin and his mother Tina (DEBRA Director)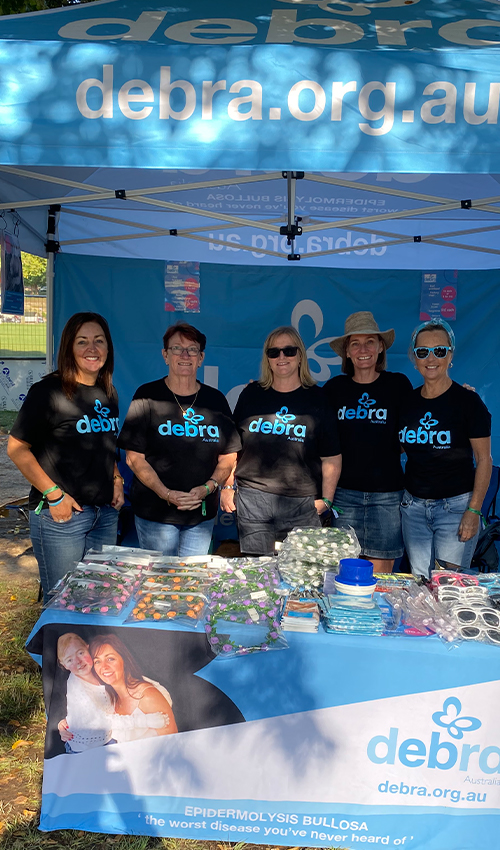 DEBRA team ready for the weekend, Simone Baird (Family Support Coordinator), Mary Woods (Director), Sue McKenna (Executive Coordinator), Kylie Gibson (Family Support Committee Member), Lise Angus (General Manager)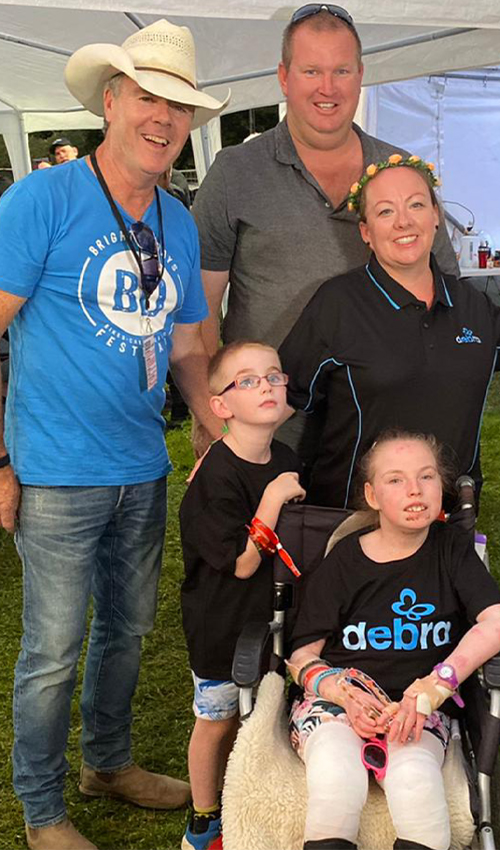 Steve Dundon (Brighter Days Founder) with the Halfpenny family from Mildura.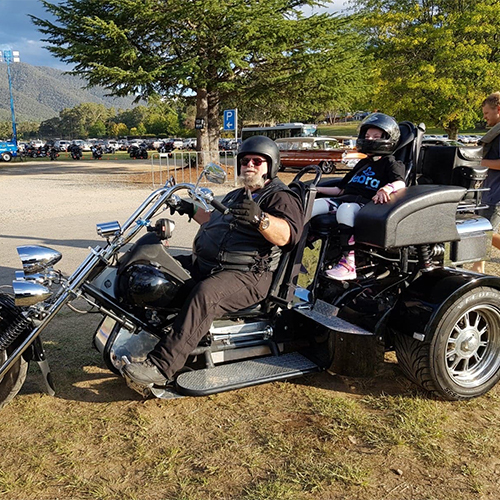 Kenny from Central VIC Tours & Joy Rides taking Jessika for her first ride on a Harley.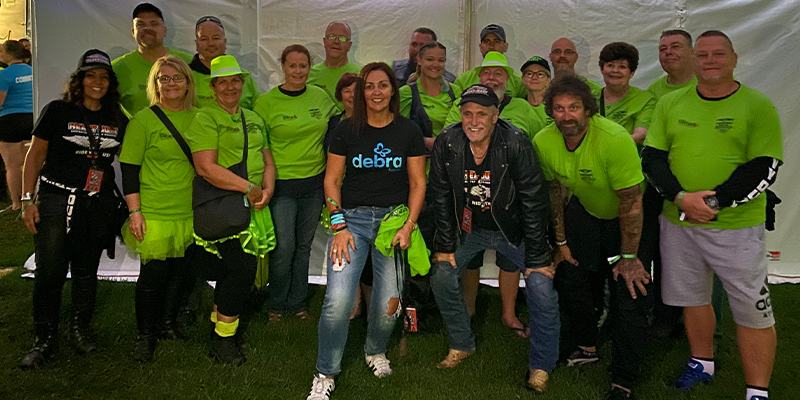 "Eliza's Ride" crew with Simone from DEBRA Australia. The group rode from Sydney in memory of Simone's daughter Eliza who sadly passed away from EB. A massive $8,000 was raised along the way which contributed to the Brighter Days event.
Thank You Brighter Days 2019
Another huge crowd of thousands attended the Brighter Days Festival this year in Bright (8 – 11th March). A great time was had by all and the committee once again outdid themselves organising another amazing event. The music was nonstop and even the weather did not deter the fans after some afternoon rain. As a result from this very successful event, DEBRA, who is one of the recipients, received a lovely $150,000 donation. This funding will be utilised to keep the essential programs running within DEBRA to support families all over Australia. A big thankyou to all involved including the Brighter Days committee, volunteers, local businesses and townsfolk for being so accommodating.
Families living with EB attended on the weekend to create more awareness at the DEBRA tent. John from rural South Australia, Lisa and Bianca from Melbourne all attended along with staff and board members.
In Lisa's words…
Linda, my support worker and I drove to Bright, South Australia, a place I'd never been before. We saw many beautiful cars and lots of bikes along the way all bound for the Brighter Days Festival.
At the DEBRA marquee a biker bloke called Kevin came up and gave Sue some money he had raised by offering rides on his 3 wheeled Harley Davidson bike. Kevin kindly offered to take me on his bike and I jumped at it! Think of a big leather club chair with big recliner arm rests, crossed with a Harley and you get Kevin's bike. I reckon he's got to be the first Uber Harley as a few people asked if he could give them a lift instead, with every cent going to the Brighter Days event. These are the kind of wonderful people that we met at the festival, all wanting to support us.
It really is an amazing achievement to have a festival grow so popular so quickly, and knowing it supports DEBRA is gratifying. For its not just the much needed funds raised, but also the awareness of EB has grown so much. People said to me, "do you have EB?" Instead of "may I ask what's wrong with you?". Such small changes in a sentence have such a powerful long lasting ripple effect that is created through events such as Brighter Days. Attendees know and hear Eliza's story, so it makes you feel more at ease, more accepted and welcomed when people already know about EB. Young John from South Australia also did an amazing job on stage and at the DEBRA marquee. On the Monday after the event I was invited to come to the pub where I met a lot of the Brighter Days committee members and volunteers. I was glad to have the chance to pass on our thanks on behalf of everyone in our EB community in person.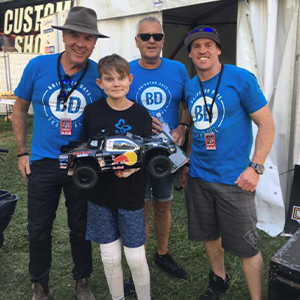 Brighter Days committee members Steve, Paul and Rosco presenting John with his new motorised car.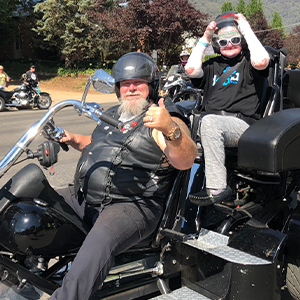 Ken Holden (from Victorian Trike Tours & Joy Rides) with Lisa who went on her very first motorbike ride.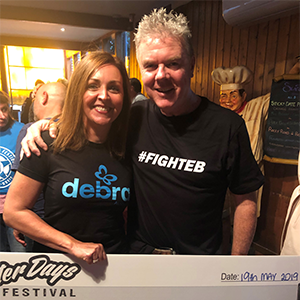 Simone (Family Support Coordinator) being presented with a cheque from Steve Dundon at the cheque presentation event in April.