BIKES – CARS – MUSIC
The Brighter Days Festival is a 3 day family fundraising event held annually on the March Labour Day weekend in the beautiful township of Bright, Victoria. In 2020 with more bands, events, stalls and kids activities than ever before, there is something for everyone.  Check out the 2020 line up below.
As well as unlimited access in/out of the Festival Entertainment precinct, our 3 day weekend Entertainment pass also includes a bike or car entry into the Show 'n Shine, Sounds of Silence Silent Disco headphones and entry into the Amazing Chase.
Don't want to BYO chair? Upgrade to our Reserved Seating weekend entertainment pass and we'll provide a chair in our reserved seating area at the front.
Please register all under 18's (free) and receive 1 x additional Sounds of Silence entry per registration. Please note under 18's must be accompanied by an adult when collecting their weekend entertainment pass wristband.
You'll also have the opportunity to check out our 2020 Merchandise range and if you fancy put your pre-order in for collection at the Festival! One way to guarantee you don't miss out!
2020 EVENT TICKETS ON SALE NOW!
2020 RAFFLE TICKETS ON SALE NOW
A message from the President of the Brighter Days Foundation
A MESSAGE FROM THE PRESIDENT

Hi everyone,

On behalf of the Brighter Days Committee I'd like to share some news about Brighter Days 2020. Thanks to your amazing support the festival has continued to grow each year. It was obvious to everyone who attended last year we have outgrown Howitt Park, so we've been working hard behind the scenes in consultation with the Alpine Shire Council and their risk assessment panel including Victoria Police, SES, CFA, Ambulance Victoria and Alpine Health to work out how the festival could continue in the future.

In 2020 the festival will be held on the Oaks Lawn at Pioneer Park in Bright. The area will be fenced and there will be an entry fee for everyone over 18 years of age, kids under 18 will be free. A three-day entertainment pass will be $100 or a day pass will be $50. Entry into special events such as the Cotton Ball Run, the Cooper Card Run, Cruise for a Cure and the Babes Lunch will be additional.

Charging an entry fee is not a decision we as a Committee came to lightly, but it was the only option after we considered all the additional costs for the logistical and compliance issues we have to address to host the festival at the new location.

Brighter Days is and always will be about raising money for children's charities. Last year we were thrilled to be able to donate $460,000 and in 2020 we will once again be supporting DEBRA Australia, Cooper Trewin Memorial SUDC Research Fund and EB Research Foundation.

Just like every other year you can expect three days of incredible live entertainment including Chocolate Starfish, BYO drinks, chair and picnic rugs and our amazing raffle thanks to Bayford Ford, Mustang Motorsport, Harley-Davidson Australia, Engineer and the Artist and Kincrome Australia.

We appreciate you will have lots of questions so we have prepared a FAQ's sheet. Click here: https://bit.ly/31tA8jX We know you'll have questions that we haven't been able to answer yet. Please feel free to keep asking the questions and rest assured we are continually working hard on the answers and will update here just as we soon as we know more.

Thanks for being part of the Brighter Days Family, we hope you can continue to support the festival into the future.

Paul Terrill
PRESIDENT
BRIGHTER DAYS FOUNDATION
Thank You Brighter Days 2019
Another huge crowd of thousands attended the Brighter Days Festival this year in Bright (8 – 11th March). A great time was had by all and the committee once again outdid themselves organising another amazing event. The music was nonstop and even the weather did not deter the fans after some afternoon rain. As a result from this very successful event, DEBRA, who is one of the recipients, received a lovely $150,000 donation. This funding will be utilised to keep the essential programs running within DEBRA to support families all over Australia. A big thankyou to all involved including the Brighter Days committee, volunteers, local businesses and townsfolk for being so accommodating.
Families living with EB attended on the weekend to create more awareness at the DEBRA tent. John from rural South Australia, Lisa and Bianca from Melbourne all attended along with staff and board members.
In Lisa's words…
Linda, my support worker and I drove to Bright, South Australia, a place I'd never been before. We saw many beautiful cars and lots of bikes along the way all bound for the Brighter Days Festival.
At the DEBRA marquee a biker bloke called Kevin came up and gave Sue some money he had raised by offering rides on his 3 wheeled Harley Davidson bike. Kevin kindly offered to take me on his bike and I jumped at it! Think of a big leather club chair with big recliner arm rests, crossed with a Harley and you get Kevin's bike. I reckon he's got to be the first Uber Harley as a few people asked if he could give them a lift instead, with every cent going to the Brighter Days event. These are the kind of wonderful people that we met at the festival, all wanting to support us.
It really is an amazing achievement to have a festival grow so popular so quickly, and knowing it supports DEBRA is gratifying. For its not just the much needed funds raised, but also the awareness of EB has grown so much. People said to me, "do you have EB?" Instead of "may I ask what's wrong with you?". Such small changes in a sentence have such a powerful long lasting ripple effect that is created through events such as Brighter Days. Attendees know and hear Eliza's story, so it makes you feel more at ease, more accepted and welcomed when people already know about EB. Young John from South Australia also did an amazing job on stage and at the DEBRA marquee. On the Monday after the event I was invited to come to the pub where I met a lot of the Brighter Days committee members and volunteers. I was glad to have the chance to pass on our thanks on behalf of everyone in our EB community in person.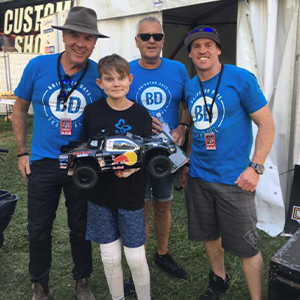 Brighter Days committee members Steve, Paul and Rosco presenting John with his new motorised car.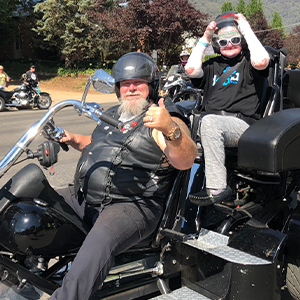 Ken Holden (from Victorian Trike Tours & Joy Rides) with Lisa who went on her very first motorbike ride.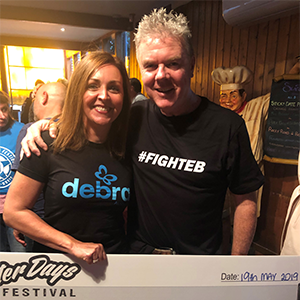 Simone (Family Support Coordinator) being presented with a cheque from Steve Dundon at the cheque presentation event in April.