What brings Australians together?
Whether it's having a BBQ, going out for dinner or catching up for some sweet treats there is one thing that we all enjoy doing and that's having a catch up over some great food.
During the month of October, we are asking all our fellow foodies to get involved with Dine and Donate in support of the precious 'Butterfly Children' and DEBRA Australia.
There are over 1000 people currently living in Australia that are affected by 'the worst disease you've never heard of' Epidermolysis Bullosa also called EB. EB is likened to having 3rd degree burns and the skin blisters and breaks at the slightest touch. EB sufferers go through extremely painful 3 hour dressing changes every second day. We need you to band together and help the precious Butterfly children during the month of October by participating in Dine and Donate.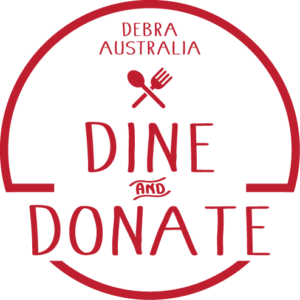 Help us raise $10,000 so we can work for a life free from pain.
Here are some great ways you can get involved…
Individuals
Hold an event like a BBQ or Mexican night for your friends and family at home or how about a progressional dinner where each course is hosted at a different venue. Set up your host a dinner page here and all your guests can make a donation to helping make the lives of EB sufferers that little bit better.
In The Workplace
We all know there is competition in every office why not set up teams where each department holds a Dine and Donate and colleagues can donate directly to the team page. The team with the highest amount raised holds the chef award for the most successful event.
It can also be as simple as having Friday night drinks and all staff make a donation to support the company's efforts.
Restaurants
Show your diners you care by signing up to be one of the many restaurants supporting Dine and Donate where people can come in and enjoy a fabulous meal but also make a donation to make a difference. You may have a special dish on the menu where a couple of dollars from each item ordered is donated to your Dine and Donate page.
Dine Out
Support restaurants that give back by choosing to dine at one of the restaurants that are signed up to Dine and Donate. You can have a great night out with your friends and family and know that by dining at one of these special venues you can help make a difference by leaving a donation.